The closest and most beautiful Inca site in the Cusco area, this spectacular Inca site can be accessed in 1 or 2 days of hiking from Cusco or the Sacre Valley. Huchuy Qosqo can only be compared with Machu Picchu or Choquequirao; its magnificent location on top of a mountain offers a great view of the whole Sacred Valley and the Andes mountains in Peru
The trek to Machu Picchu from Huchuy Qosqo is a popular option for travelers who want to avoid the crowded trails around Cusco. If you're looking for an adventure-filled trip to Machu Picchu, the Huchuy Qosqo Trek is a great option.
Location
Huchuy Qosqo, or Little Cusco, is an amazing Inca archaeological site located north of Cusco at an altitude of 3,650m / 11,975 ft. The name comes from the Quechua language that means "Little Cusco." This amazing ancient Inca citadel overlooks the Sacred Valley right above the town of Lamay in the Province of Calca.
The location right above the Sacred Valley allows Travelers to enjoy one of the most amazing views in the Cusco region; you can access this site on a hiking tour from Cusco or the Sacred Valley.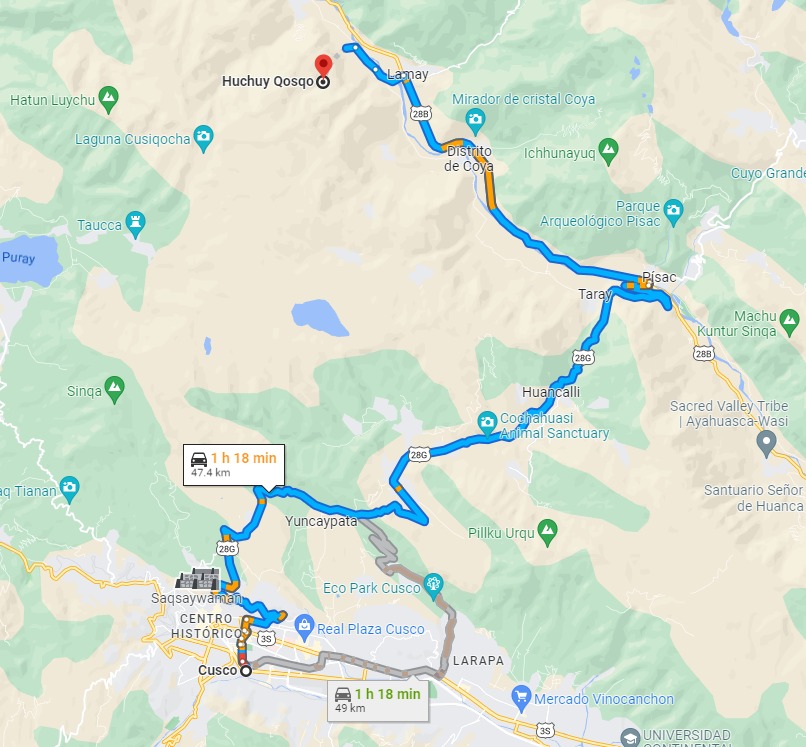 History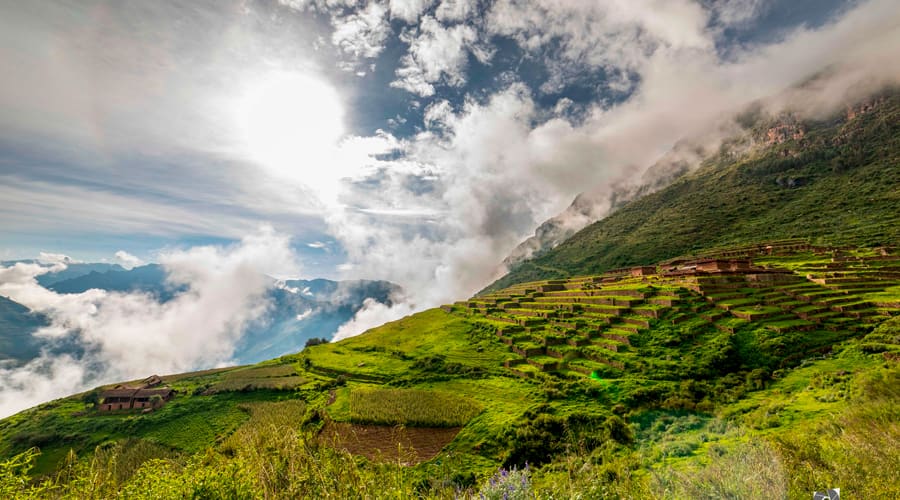 Inhabited somewhere around 1400 AD, this belongs to the Inca period. According to the Spanish chronicler Pedro de Cesar de Leon, Huchuy Qosqo was built and the favorite place to live for the eighth Inca King Wiracoca (1410–1438), his Royal Family.
The Name Huchuy Qosqo was adopted in the XX Century. Due to its similarity in shape to the great city of Cusco, the original name that appears in the chronicles is Caquia Jaquijahuana. The archaeological site of Huchuy Qosqo or Caquia Jaquijahuana was declared a National Heritage on August 19, 2003.
After the Hispanic conquest, Maco Inca, the rebel king, used this citadel in 1533 to move his army Cusco to the Sacred Valley and later retrieve to Vilcabamba. After this, the conquistador Gonzalo Pizarro ransacked Huchuy Qosqo and burned the mummies of Viracocha around 1534.
What was Huchuy Qosqo?
Huchuy Qosqo was a small Inca settlement located near the city of Cusco in Peru. The site was first excavated in the early 20th century and has since been restored. The site's main features include a series of temples, plazas, and storage buildings.
The citadel structure, the terraces, the irrigation, location, and buildings assumed an important administrative and military center above the Sacred Valley.
Many large buildings called Kallanka (Great Halls) are resting places for high-class people. Also, several buildings called Qolcas store food like corn in the higher areas. The Inca built an irrigation canal of about 800m to provide water for the site.
It's also possible to find impressive farming terraces adapted to the shape of the mountain.
What is the meaning of Huchuy Qosqo?
The name Huchuy Qosqo means "little Cusco" in Quechua, the language of the Incas. The site is believed to have been an Inca emperor's royal estate or summer palace.
How to get to Huchuy Qosqo
There are a few different ways to get to Huchuy Qosqo, but the most popular way is to take the trek from Cusco. This trek can be done in a couple of different ways, but the most popular way is to start from the town of Chinchero, Quenqo Village, Tambomachay, or Lamay in Sacred valley.
Flora of Huchuy Qosqo
Huchuy Qosqo is home to various plant species, many of which are endemic to the area. The trek to Machu Picchu passes through several different ecosystems, providing hikers with the opportunity to see a wide range of plant life.
One of the most notable plants found in Huchuy Qosqo is the Andean lily (Alstroemeria aurea). This brightly colored flower grows along the banks of streams and rivers.
Other common plants that can be seen in Huchuy Qosqo include:
Cushion plants (Pleurothallis sp.)
Orchids (Epidendrum sp.)
Ferns (Pteridium aquilinum)
Bromeliads (Tillandsia sp.)
The diverse range of plant life in Huchuy Qosqo provides an important source of food and shelter for the local wildlife. Visitors to the area should take care not to disturb the natural environment.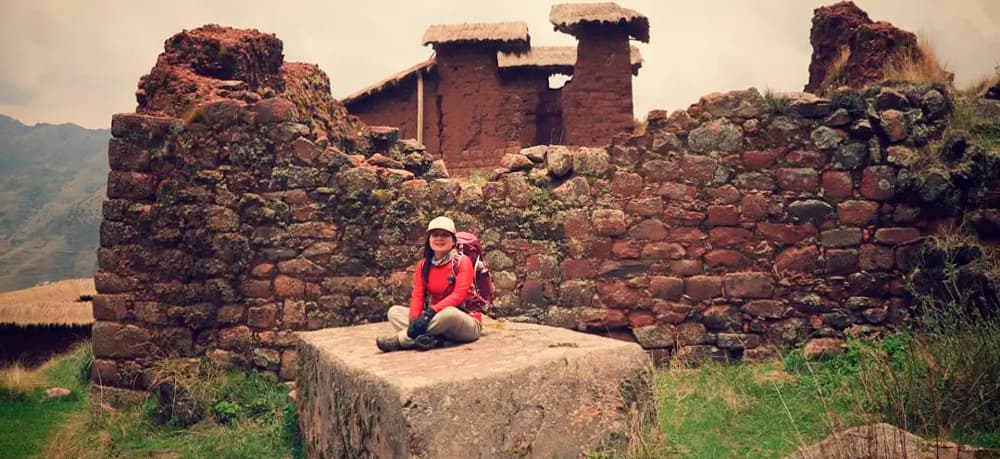 Fauna of Huchuy Qosqo
The Huchuy Qosqo trek is home to various animals, including Andean condors, llamas, alpacas, and vicunas. The area is also home to various birds, such as the Andean goose, the bearded vulture, and the Peruvian Thick-knee.
What is the Best Time of the Year for the Huchuy Qosqo trek?
There are two main seasons in the Peruvian Andes:
The dry season runs from late April through to early October.
The wet season starts mid to late October and ends in April.
But, When is the best time of the year to do Huchuy Qosqo Trek?
The trek can technically be completed all year round, the peak trekking season to Machu Picchu occurs during the dry season and is busiest between May and September. So, the best time of year to do Huchuy Qosqo Trek to Machu Picchu run from the shoulder of wet months March/April all the way through to the shoulder of dry months October/November.
Overall, the Huchuy Qosqo Trek to Machu Picchu is a memorable, challenging, and jaw-dropping hike that any outdoor or adventure enthusiast would love. If you're looking for an experience you'll never forget, and landscapes like none other, the Huchuy Qosqo Trek definitely won't disappoint.
Packing List for the Inca Trail Tours
Documentation.
Bring your original passport. You will need it both to start the Inca Trail Tour and to enter Machu Picchu through the Sun Gate.
Day Pack (30L)
Bring a comfortable daypack with snug straps to wear while you hike. SAM Travel Peru and most of the companies offer extra porter to carry you things too
Reusable water bottle.
Carry a reusable water bottle in your daypack. Another option is a hydration pack, like a CamelBak, which is a super convenient way to stay hydrated.
Clothing.
Layers, layers, layers. You'll pass through many different climates along the trail and dressing in layers is important. Pack lightweight pants, short- and long-sleeve shirts, a warm fleece jacket, underwear, and socks. Temperatures really drop at altitude when the sun goes down. To stay warm, thermal undergarments, a warm hat, and gloves are recommended.
Footwear.
Comfortable hiking boots or walking shoes are a must. Also pack shower sandals.
Rain gear.
Be prepared with a rain jacket and pants or poncho. Rainy conditions aren't to be expected during the dry season, but it's better to be prepared.
Sun protection.
Pack a hat, strong sunblock, and glasses for protection against the sun.
Flashlight.
Headlamp (with extra batteries) or small flashlight to use at night while camping.
Comfort.
Light-weight travel towel to shower with and a small travel pillow for your sleeping comfort. Some trekkers may prefer to bring walking sticks, they are especially helpful in downhill sections.
Toiletries.
Toothbrush, toothpaste, travel shampoo, tissues, toilet paper, wet wipes, insect repellent with deet, and any personal medications.
Snacks.
You may want to bring extra (or diet specific) high energy snacks, such as some cookies, protein bars, chocolates, or nuts.
Money.
Bring local Peruvian currency (Soles) in your wallet so that you can tip your trekking team.
Camera.
Of course, don't forget your camera, with extra battery packs and memory cards – No Electricity along the trek.
BEST ITINERARY FOR THE HUCHUY QOSQO TREK TO MACHU PICCHU
DAY 1: CUSCO – PATABAMBA – HUCHUY QOSQO
Your Andean adventure begins at 6 am when we pick you up at your hotel and then we drive in our private transport to the village of Patabamba (3,800m/12,467ft), only 1 hour from Cusco. Once we arrive, we put our backpacks on and get ready to start a gentle hike uphill for the next 3 hours to get to the highest point of the trek (4,200m/13,779ft). From there, we have fantastic views of the surrounding snow capped mountains and valleys. We descend towards the village of Pucamarca and spend time at the Inca ruins there.
From there, we follow a section of the original Inca trail into the Inca city of Huchuy Qosqo. There, we have time to explore the city and then we head to our homestay. Here, your guide will introduce you to the local family who will show you to your room for the night and the bathroom with a proper toilet. You will see all the amazing views of the surrounding areas and the Inca city. By late afternoon, you will enjoy your tea, and later have dinner with your local family! In the evening, you will have the opportunity to enjoy the sky full of brilliant stars, far from the light pollution of any city and see the Inca constellations which your guide will show you.
Meals included: Picnic lunch – Afternoon Tea Time – Dinner
Accommodation: Homestay at a local family's home with a proper toilet
Distance: 13kms/8 miles approximately
Difficulty: Moderate
DAY 2: HUCHUY Q'OSCO – OLLANTAYTAMBO – AGUAS CALIENTES
After a delicious breakfast, there will be a guided tour of the Huchuy Qosqo Inca City, in which you will discover amazing Inca buildings, sacred temples, farming terraces, storehouses and water channels. Your guide will tell you about the fascinating history of Huchuy Qosqo and how it changed the course of Inca history! After you, have had time to explore everything, we head downhill to Lamay for 2 hours. Our private van will take you to Urubamba, city where we will have lunch.
Afterwards, we head to the archaeological site of Moray also known as "The Greenhouses of the Incas," which is a unique and fascinating site, built prior to the Incas. Different levels of terraces are carved into a huge basin, part of which was further excavated by the Incas. The terraces have varied microclimates, depending on how deep into the bowl they were used by the Incas to discover the optimal growing conditions for their crops. After you have time to enjoy and explore the site, we continue driving towards the colonial town of Maras and to the Pre-Inca Salt Mines (Salineras). Thousands of saltpans have been passed down through the generations and used for salt extraction since before Inca times. A hot spring at the top of the valley discharges a small stream of heavily salt laden water, which is diverted into saltpans and evaporated to produce salt. This is one of the few places in the world where you can find naturally pink salt!
Then, we continue our journey to Ollantaytambo where we will explore the stunning astronomical Inca City of Ollantaytambo. After dinner in a restaurant, we take the 7:04 train to Aguas Calientes, where we spend the night in a hotel.
Meals included: Breakfast, Lunch & Dinner
3* Accommodation: Hotel Ferre´ Machu Picchu
Distance: 7kms/4.3 miles approximately
Difficulty: Easy
DAY 3: AGUAS CALIENTES – MACHU PICCHU – CUSCO
This is the day you've been waiting for! After an early breakfast at your hotel, you'll take one of the first busses up to Machu Picchu, so that you can be there to witness the sunrise. It is a truly extraordinary site and not something you'll want to miss! Your guide will give you a tour, which takes about two hours. You will see most of the important parts of Machu Picchu Citadel. You will also learn about how Machu Picchu is divided into three sectors: agricultural, residential and religious.
After your tour, those who have booked in advance for an extra hike up Huayna Picchu will have time to enjoy those views on their own. When you have had your fill of the exceptional views of Machu Picchu, you will take the bus back down to Aguas Calientes for lunch (not included). Depending on your train departure time, you may also have time for some shopping, sightseeing or a visit to the museum or hot springs.
The Expedition train will take you back to Ollantaytambo at 2:55pm or 3:20pm, following the spectacular Urubamba River. Close to Aguas Calientes, the canyon is narrow and the river has many beautiful sections of whitewater. You can also see Wiñay Wayna from the train, if you look up high on the steep canyon wall! Back at Ollantaytambo, your driver will meet you at the exit from the train station to take you back to your hotel in Cusco in our private vehicle. You can expect to arrive at your hotel by 7:00pm.
Meal included: Breakfast
Difficulty: Easy
***IMPORTANT:
You can upgrade to the Vistadome Train for the same times, 2:55 or 3:20, 4:22, or 4:43pm. The cost is $67 USD.
Early trains can be organized by request and it has to be done by booking time.