Itinerary
4 Days Inca Trail
DAY 1: CUSCO – KM 82 – WAYLLABAMBA – AYAPATA
The excitement of this famous trail will get you ready by 04:30 AM for pick up and begin our journey to Ollantaytambo, where you can choose to have breakfast. After getting energized we will take our bus to KM 82 in Quechua terms Piskacucho. There you will suit up, boots on and ready to begin the first hike of the Inca Trail. But first, we have to pass through our first checkpoint where passports and student cards are required verify that they match your permit.
After passing through the checkpoint we are ready to start hiking. We will follow and cross over the the Vilcanota river on our way. There are no uphill stretches on the first day. The path is pretty easy along flat terrain. There are some magnificent views of the Inca Fortress Huillca Raccay and also the Inca site of Llactapata. This Inca site is made up of the several temples, palaces and terraces with a view of a snow capped peak of W´akay Willca. We continue our hike towards Wayllabamba (3,000m/9,842ft) where we are almost to our first campsite of Ayapata. After settling in at our campsite, we will have tea with a mountain peak view. Later on we end the day with an Andean dinner prepared by our trek chef.
Meals: Lunch. Afternoon Tea. Snack. Dinner
Accommodations: Camping Facilities
Distance: 12 KM / 7.5 MILES (approx. 6-7 hour hike)
Difficulty: Easy to Moderate

DAY 2: AYAPATA – PAQAYMAYU – CHAQUICOCCHA
Our morning starts at 05:00 AM with a hot breakfast, coffee, and teas served by our cook. We are not ready for the challege of today´s trek. It will be a steep uphill hike towards the highest pass of Abra de Warrmihuañusca, in other terms Dead Woman´s Pass! (4,200m/13,799ft) It may be a difficult hike for a couple of hours, however you will be mesmerized by the spectacular views after reaching the top. It will be all worth it.
After a well-deserved rest, we will have a relaxing hike down to Pacaymayu (3,550m/ 13,779ft), where lunch will be served. After lunch, we continue our hike for another 2 hours on a steep path up towards Runkuraqay (4,00m/13,123ft) reaching our second campsite at 5:00 PM.
Meals: Lunch. Afternoon Tea. Snack. Dinner
Accommodations: Camping Facilities
Distance: 16KM / 10MILES (an approx. 9 hour hike)
Difficulty: Moderate to Challenging

DAY 3: CH´AQICOCHA – PHUYUPATAMARCA – WIÑAY WAYNA
On day 3, we rise and shine with a hot breakfast served at 06:00 AM. Our trek today, begins with a moderate climb towards Phuyupatamarca, which means City in the Clouds. There Spectacular view of the mountains, the canyons and the panoramic surroundings. It is the third highest point of the Inca Trail at (3,680m/12,074ft). We will spend a considerable amount of time at this site, receiving a well deserved rest.
After a rest, we will trek through the Inca cloud forest to the beautiful Inca agricultural site of Intipata. At the ruins of Wiñay Wayna (2,680m/8,793ft) which is also known as "Forever Young." Wiñay Wayna (depends on availability) is our third campsite of the trek at which we will arrive in time for lunch. At our last camp we get to once again enjoy a delicious Andean dinner with fresh food prepared by our trek chef.
Meals: Lunch. Afternoon tea. Snack. Dinner
Accommodations: Camping Facilities
Distance: 10KM / 6.2 MILES (approx. a 5 hour hike)
Difficulty: Moderate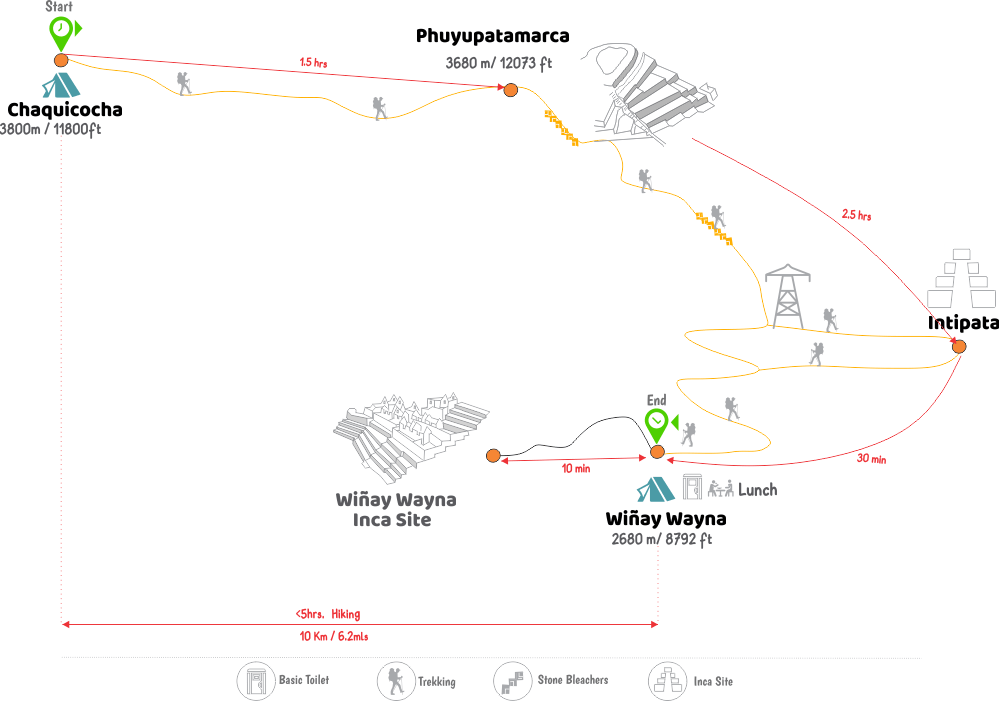 DAY 4: WIÑAY WAYNA – MACHUPICCHU – CUSCO
Finally, the moment you have been waiting for has arrived!We get up at 04:00 AM for an early hot breakfast, coffee and tea. Excitement for this very last hike to Inti Punku also known as the Sun gate at 6:00 AM for sunrise and the first view of Machu Picchu Citadel. We will walk leisurely downhill on the Inca stair cases towards Machu Picchu itself at (2,400m/7872ft). Upon arrival, our guide will lead you to where you can store your belonging before beginning your tour of Machu Picchu. Our guide during our tour of Circuit #3 which is about 2 hours. He will guide you through the important sites and educate you about the history of the ruins. You will learn about the temple of the sun, condor, three windows, house of incas and much more.
There is one more peak to possibly climb.
Huayna Picchu: Known as the Young mountain, being part of the vast majority of the panoramic photos of Machu Picchu Citadel. Upon climbing Huayna Picchu, you may discover some archaeological sites including Temple of the moon, which is built in a natural cave.
Please Note: The Huayna Picchu tour is a 10:00 AM. However, it is based on availability and it can be booked out months in advanced in high tourist season.
By noon we will be taking the bus from Machupicchu to Aguas Calientes for lunch (at your own cost). There are many good restaurants and there will be time to explore a bit of Aguas Calientes. We will be boarding the Expedition Train at 2:55 PM or 3:20 PM to Ollantaytambo train station. Upon arrival, you will make the 2 hour journey by private van to Cusco, arriving approximately at 7:00 PM and then you will be dropped off at your hotel.
Meals: Breakfast
Distance: 6KM / 3.7 MILES
Difficulty: Easy

Inclusions
WHAT IS INCLUDED FOR THE 4 DAY INCA TRAIL TO MACHU PICCHU?
Briefing the night before the trek at our office
A porter for your personal belongings up to 7kg/15lbs
Pickup at your hotel
Professional English tour guide
Meals (Indicated on itinerary only)
First aid kits
Oxygen tank
Hot water for washing at campsite
Boiled water at campsite
4 Season Eureka tents
Thick foam mattress
Expedition Train from Aguas Calientes to Ollantaytambo
Transfer back by private van back to your hotel in Cusco
Inca Trail permit
Entrance ticket to Machu Picchu
2.5 hour guided tour
Bus ticket from Aguas Calientes to Machu Picchu
Chef and cooking equipment
Dining tents with tables and chairs
Day Pack with a rain cover
WHAT IS NOT INCLUDED FOR THE 4 DAY INCA TRAIL TO MACHU PICCHU?
Huayna Picchu: US $75 per person. Please verify if available prior to booking – needs to be reserved upon booking. (This climb is booked out months in advanced.)
First breakfast in Ollantaytambo
Last lunch in Aguas Calientes
Upgrade to Vistadome Train US $67 per person (return trip only)
Tips for guide, cooking crew and porters
Price
PRICE AND AVAILABILITY FOR 4-DAY / 3-NIGHT CLASSIC INCA TRAIL 4 DAYS
The Classic Inca Trail to Machu Picchu is available on any date as long as we have a minimum of 2 people and there are permits available. Please Enquire!
| | |
| --- | --- |
| No. OF PEOPLE | PRICE |
| 2 + persons | $ 597 USD per person |
| | |
We require a minimum of 2 hikers to start this trek.
We operate group tours up to 12 hikers maximum.
DISCOUNTS
18 to 25 years old: $30 USD. Information required on student card: name of university, student name, photo of student, expiration date etc. A copy of the card at booking is required & government approval for discount.
Under 18 years old: $30 USD. Please send us a copy of your passport at the time of booking.
Under 11 years old: $40 USD. Please send us a copy of your passport at the time of booking.
EXTRAS
Sleeping Bag: $20 USD per person per trek (It will be clean and warm)
Air Mattress: $20 USD per person per trek (Therm-a-rest mattresses)
Walking Poles: $15 USD per pair per trek (Professional Poles that can be extended)
Personal Tent: $30 USD – (For single travelers only)
Additional Night in Aguas Calientes: From $60 USD (Depending on availability)
Vistadome Train Upgrade: $67 USD per person (For the return to Cusco at 4:43pm)
Huayna Picchu Mountain: $75 USD per person (Please request when you book your Trek)
Packing List
WHAT YOU HAVE TO TAKE WITH YOU FOR THE CLASSIC INCA TRAIL TO MACHU PICCHU?
Original Passport: (Must be the same you used for booking your trek)
Valid, University Card: (Only if you booked as a student)
Good Daypack: One with extra room for a box lunch (the smaller, the better)
Water: 2-3L (Camelbak bladders are encouraged)
Boots: Comfortable broken in hiking boots or shoes (Boots with ankle support recommended).
Sleeping Bag: 4 season bag (can be rented from Short Inca Trail Hike)
Headlamp or flashlight: Headlamp frees up hands (Back-up flashlight & batteries are recommended)
Toilet paper: Make sure to bring your own.
WHAT TO PUT IN THE DUFFEL BAG FOR THE CLASSIC INCA TRAIL TO MACHU PICCHU?
As a Direct Local Tour operator we provide you with a duffel bag at your briefing and INCLUDE an extra porter who will carry up to 7 kgs or 15 lbs. including your 2.5kg sleeping bag, mattress and extra clothing.
Warm clothes
comfortable shoes for camp
Quick dry towel. We provide small ones, you might prefer your own
Small bottle of soap: we provide warm water each day to wash
Large plastic bags will be provided at the office — Please ask for them
Sleeping bag: It has to be at least -15ºC – This can be rented from us for $20USD
TOILETRIES
Hand Sanitizer
Wet wipes
Toothbrush and toothpaste
Personal medications
First aid kit
WHAT TO PUT IN THE DAY BACKPACK FOR THE CLASSIC INCA TRAIL TO MACHU PICCHU?
We highly recommend a small backpack 30 – 40 Litres for hiking. A big backpack will not be allowed into Machu Picchu. The remainder of your belongings will be in your duffel bag at camp.
Drinking Water: Please supply your own water until the first lunch spot, then we will provide you with cold boiled water at every meal. Please bring your own strong BPA free refillable bottles, (no light plastic bottles used for sodas.)
Sun Hat
Sunscreen
Headlamp or flashlight
Rain gear
Snacks like chocolate bars, ice cream, cereal bars, protein bars
Coca leaves
Rain plastic poncho
Gloves
Camera
Hand sanitizer
Toilet paper and small plastic bags for waste
Extra Money for Souvenirs, Drinks & Tips