Lares Trek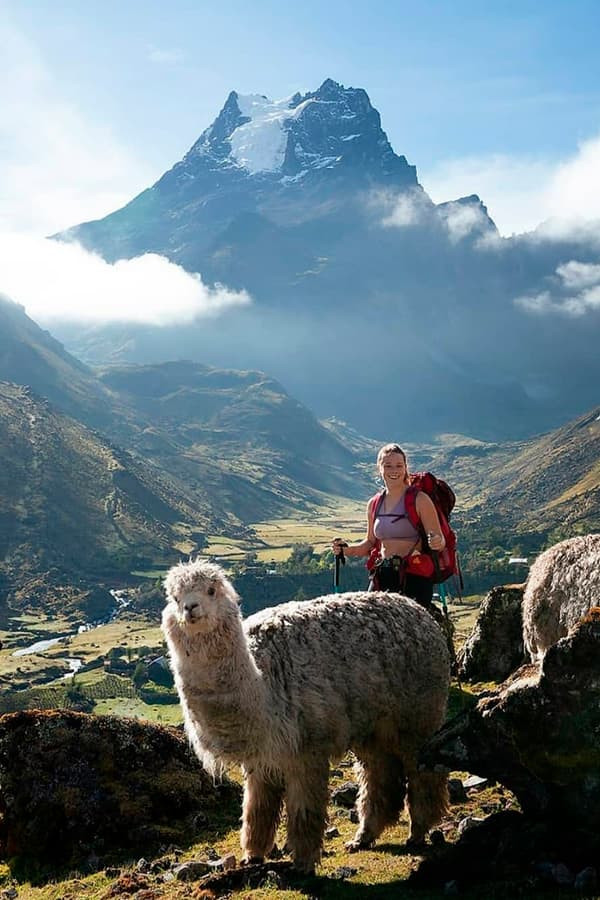 The Lares Trek is a network of trails winds around a chain of snow-capped peaks and glaciers led us to some of the farthest flung villages in the Cusco area.
There are a variety of routes to take, depending on how long you have and how hard you want the treks to be.
WHATS TO SEE IN THE LARES TREK?
The trails are generally good and although there are no really steep gradients, you do need to be prepared for a few hours to get to the high camps.
This is the most scenic trekking route which also gives you the opportunity to learn about local culture
There is a network of valleys that lead to high mountains and passes, weaving around ancient villages where time can appear to have stood still.
There was a lively wedding taking place with all the locals bedecked in their finest, colourful Andean ponchos, while some stayed back to tend the llamas and alpacas.
Andean folk live almost exactly as the Inkas did, preserving their culture, weaving and cooking methods centuries old.
Guinea pigs scamper on the floor, joined by chickens, cats and dogs, all part of the hardy mountain family life.
***One of the highlights of this trek is the privilege to interact with the local people and learn about their way of life
LOCAL PEOPLE ALONG THE LARES VALLEY
Locals, brightly adorned in traditional colorfull clothing, do try to sell you (at very cheap prices compared to Cusco) high quality home.hand made weavings. There are some beautiful items to buy.
Have the privilege to interact with the local people and learn about their way of life and culture, all in Quechua language which is what Inkas spoke.
Magnificent walking was all topped off with a soak in Lares' famous hot springs, up to 44 degrees in one pool the perfect way to end the hike.
Enjoy the incredibly picturesque, with majestic ice glaciers, shockingly blue glacial lakes, waterfalls, llamas, and alpacas with SAM Travel Peru.
Best Time of the Year for the Lares Trek to Machu Picchu
There are two main seasons in the Peruvian Andes:
The dry season runs from late April through to early October.
The wet season starts mid to late October and ends in April.

But, When is the best time of the year to do Lares Trek?
The trek can technically be completed all year round, the peak trekking season to Machu Picchu occurs during the dry season and is busiest between May and September. So, the best time of year to do Lares Trek run from the shoulder of wet months March/April all the way through to the shoulder of dry months October/November.
Overall, the Lares Trek is the most cultural, memorable, challenging, and jaw-dropping hike that any outdoor or adventure enthusiast would love. If you're looking for an experience you'll never forget, and landscapes like none other, the Lares Trek definitely won't disappoint.
How fit do you need to be for this cultural hike?
Anyone having difficulty with altitude sickness and not in regular shape may not make it when climbing the high altitude mountain passes. If not, before arriving in Peru, try to do cardio exercises and plan enough time to get acclimatised to the altitude in Cusco, and after that, there wouldn't be anything you can´t handle. We do highly recommend to be in Cusco for at least 2 days before hiking to Machu Picchu.
Thermal Hotsprings – How good are they?
Whatever is the company you take for hiking the Lares Valley, we recommend to eng the hike at the Natural hot spring, using them by the end of the hike, will be really worth it… Way wau better to use th hot spring after the hike. …. It is a very charming place to relax, but before starting the tour, ask your tour operator if there will be time for it and if you will use them at the end of the hike.
*** Not worth it to use it before starting the hike!
ITINERARY FOR THE LARES TREK TO MACHU
Day 1: Cusco – Huaran – Cancha Cancha
Wake up for an early 5:00am pick-up for your Lares Trek to Machu Picchu Trek. Pick-up will be at your hotel lobby in Cusco or a little later if hotel is along the Sacred Valley. Please coordinate with office in terms of your location. We then drive to our trailhead in Huaran.
We meet our trekking team and settle along the river bank for the first of many meals from our talented chef and his/her team. While we tuck in, the horsemen pack up our duffel bags onto the mules and horses and prepare for the journey ahead. You will only keep your backpack with just the essentials needed along the way for the day.
Our hike starts at a pretty warm climate, that gradually gets chillier as we gain elevation and get closer to camp. The first section of the trail is steep, so pace yourself, it will eventually level out and become more of a gradual climb. To accompany us along the way we have the Pachachaca river gently flowing downstream and an opulence of unique flora lining the towering mountains above us. Pick your guide´s brain, they are well versed in all things related to Andean culture and enjoy sharing their knowledge. On day 1, we gain over 900m/2953ft in elevation.
We make a stop along the way for a buffet style lunch, prepared with a delectable mix of local and international ingredients. The rest of the journey leading to the farming community of Cancha Cancha has absolutely stunning scenery. On arrival we are greeted with a selection of snacks and hot tea. Later, we spend time with this isolated indigenous community, who predominantly only speak Quechua (the indigenous language of Peru). Your guide will translate and teach you a few phrases in Quechua, don't be shy to share some your own culture.
After sometime immersing ourselves within this community that's still keeping their ancient culture and traditions alive, we head into our dinner tent for yet another abundant and scrumptious dinner. To end the night, we get into our warm and cozy clothing, to spend the night admiring the star-studded night skies. Learn from our guide about the intricate farming methods of the locals and ancient Incas, by using the constellations for guidance.
Meals included: Breakfast – Lunch – Afternoon Tea – Dinner
Accommodation: Camping facilities with a building with clean flushing toilets
Distance: 9kms / 5.6 miles
Time: 3.5hrs approximately
Difficulty: Moderate
Day 2: Cancha Cancha – Quiswarani
Your guide will wake you with a hot cup of tea or coffee to enjoy in your sleeping bag before having to get up for breakfast. Feeling all revved up to begin our second day, we indulge in a delicious and abudent breakfast before we begin our 7 hour hike northeast. It starts out as an intense walk, accomplishing high passes on our way to the highest point of our trek at Pachacutec Pass(4,500m /14,800 ft). This is where you pat yourself on the back and embrace the satisfaction and exhilaration for making it up to the summit. Motivating you along the trail for this intense part of the trek are the views of glaciers, remote lakes, alpaca herds, rugged valleys and spectacular mountain vistas. Keep your eyes on the sky for the Caracara falcons and Andean geese!
After enjoying the summit, we descend for 3 hours until we reach our campsite located by the Quiswarani community, (3,700m/12,139ft). On the way, we will be taking an isolated trail where we will see indigenous highland people in their traditional outfits herding their llamas and alpacas. The local indigenous people will open their hearts and interact with you in Quechua (the indigenous language) . The spectacular seven waterfalls, is a stones throw away from your campsite!
At the campsite, everything will be ready. Enjoy hot drinks and appetizers before dinner, then snuggle in for a comfortable night sleep.
Meals included: Breakfast – Lunch – Afternoon Tea – Dinner
Accommodation: Camping facilities with bathroom building
Distance: 12kms / 7.5 miles
Time: 7hrs approximately
Difficulty: challenging
Day 3: Quiswarani – Cuncani – Lares – Ollantaytambo
Your adventure continues as you begin the most scenic day yet! We begin our ascent for 3 hours until we reach the Willqaqasa Pass, (4,200m/13,779ft) getting a bird's eye view of the reflections of the mountains in mirror images in the glacial lakes below. The majestic Colquecruz and Pitusiray Mountains are awe inspiring to admire from the pass. We continue our trek through the Puna grasslands, undulating and productive agricultural sites and natural pristine lakes. Time to descend for 2 hours to the Cucani community. Connecting with the local indigenous children, you may have the opportunity to visit a local school and share in some quality time with the students.
From Cuncani we meet our driver and ride down through a lush valley with extensive agricultural areas, fruit bearing trees, varied flora, and native flowers like begonias and wild orchids. Finally, we reach our destination, the Lares Hot Springs (3,100m/ 10,170ft), where we cannot wait to soak in the natural volcanic hot springs for an hour, have lunch and relax. Time for our goodbyes to our remarkable chef and horsemen.
After lunch in Lares, we take our private transport to 2.5 hours Ollantaytambo, where we have dinner and then we take the train to Aguas Calientes. Where we spend te night.
Meals included: Breakfast – Lunch – Afternoon Tea – Dinner
3* Accommodation: Ferre Hotel Machu Picchu
Distance: 15kms / 9.3 miles
Time: 6 hrs approximately
Difficulty: Moderate
Day 4: Aguas Calientes – Machu Picchu – Cusco
Today's highlight is the amazing Machu Picchu!
After an early breakfast at your hotel, you'll take one of the first busses up to Machu Picchu so that you can be there to witness the sunrise. It is a truly extraordinary site and not something you'll want to miss! Your guide will give you a private guided tour of about two hours. You will see many of the most important parts of Machu Picchu Citadel. You will also learn about how Machu Picchu is divided into three sectors: agricultural, residential and religious.
After your tour, those who have booked in advance for the extra hike up Huayna Picchu or Machu Picchu Mountain will have time to enjoy those views on their own. When you have had your fill of the exceptional views of Machu Picchu, you will take the bus back down to Aguas Calientes for lunch (not included). Depending on your train departure time, you may also have time for some shopping, sightseeing or a visit to the museum or hot springs.
The Expedition train will take you back to Ollantaytambo at 2:55pm or 3:20pm, following the spectacular Urubamba River. Close to Aguas Calientes, the canyon is narrow and the river has many beautiful sections of whitewater. You can also see Wiñay Wayna from the train, if you look up high on the steep canyon wall! Back at Ollantaytambo, your driver will meet you at the exit from the train station to take you back to your hotel in Cusco in our private vehicle. You can expect to arrive at your hotel by 7:00pm.
Meal included: Breakfast
Difficulty: Easy
**** The itinerary has been provided by SAM Corporations Peru!