The fabulously coloured Rainbow Mountain Trek, also known as Vinicunca, Montaña de Siete Colores, or Montaña de Colores is a mountain ridge in southern Peru, at an altitude of 5,200 meters above sea level. In recent years it has become the second best destination in Cusco, Peru after Machu Picchu.
What is the Rainbow Mountain
The stunning striped mountain is familiar to many from photos on social media and the internet. The fabulous colours range from reds, oranges, browns and even green, purple and gold.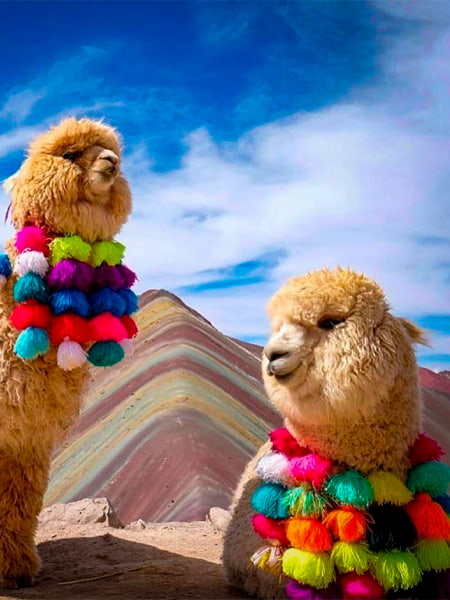 This classic much photographed stripey mountain is just a very small part of the Ausangate massif, which is part of the Vilcanota range of mountains. This is just one, small 80 km long, mountain range in the immense mountain chain of the Andes that runs the full western edge of the South American continent.
The Andes have been formed over millennia as the Nazca plate and South American plate have slid and grated together, causing an uplifting of the earth, volcanic action and the introduction of a variety of multi-coloured minerals. The uplifting and weathering over the centuries has exposed the magnificent layering of those minerals that we see today.
The Vilcanota range of mountains has 6 peaks over 6,000 metres, and over 150 peaks above 5,000 metres. The highest peak, Ausangate 6,380 metres, is the highest of all the mountains in the Cusco area. It is a venerated peak, traditionally thought to influence the weather of the Cusco area and to be an ambivalent god (locally known as an apu; Mountain God) with the power to blight crops or bestow health and fertility.  The Incas made offerings of gold to the mountain and local devotees continue to leave offerings. The massif is home to one of the most traditional and fascinating Andean indian festivals of all, Qoyllor R'iti. This is held around Trinity Sunday each year and involves a pilgrimage of tens of thousands of pilgrims, an explosion of colour noise and ritual at which veneration of Christ and the sacred peak have become mythically intertwined.
1 DAY OPTION: Rainbow Mountain
The tour has to start very early as it involves a 3 hour / 100 km drive to the start of the one day walk. It is essential you are well acclimated before doing this walk. It is a really tough day as you climb from 4,300 meters (14.200 feet) to 5,200 meters (16,200 feet), taking 4 hours or so. You have the option to hire a horse. The path is steep and can get very muddy and slippery. The views are beautiful and you hike through fields where alpacas, llamas and vicuñas graze. The views at the top are the classic ones of the rainbow mountain. You will be given a packed lunch, your guide will explain the geology and geography of the region, you take photos and head back the same way.  It takes 2 to 3 hours or so to get back down. Then we return to Cusco and your hotel at around 7 pm.
2 DAY OPTION: Rainbow Mountain
The two day trek option is a good compromise if you can't make thelonger hikes. A word of warning however, you sleep very high on this trek so it is dangerous to do this unless you are extremely well acclimatised. We pick you up from your hotel on the first day at 0500, so not quite so early, to get to the trailhead. We stop on the way to visit a local market where we can see local fruit, vegetables and massive loaves of bread. Main bags go on horse back and you set off through a beautiful valley where we will see local families farming and herding llamas and alpaca. We trek up hill for 3 to 4 hours to the Condor pass, 5,100m, 16,000 feet. The views are stunning, Ausangate peak towering above and lakes spread out below. We descend a little and hike to Ananta, our camping spot for the night.

Distance: 14km/ 8.7 miles
Height gain: 4200m-5000m
Hiking time: 5-6 hours

On the second day a warming cup of tea, a good breakfast then a walk of 90 minutes or so will bring us to the Rainbow Mountain. We should be there well before other trekkers arrive. The hike back to the trailhead takes 2 to 3 hours. We then drive back to Cusco (3 hours). We expect to get back to Cusco at 5pm, where we drop you at your hotel.

Distance: 18km/ 11 miles
Height change: 5000m-5200m-4200
Hiking time: 6-7 hours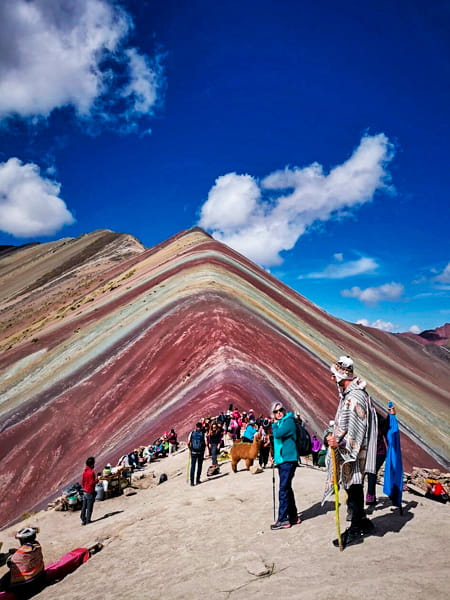 Trekking at high altitudes
Whichever trek you choose, don't underestimate the high altitude of your destination. Rainbow Mountain is at an altitude of 5,200 meters above sea level.
When gaining altitude, air pressure drops and the amount of oxygen reaching the lungs is reduced.  It's a good idea to read as much as you can about how your body may react to being at high altitudes so you know what to expect and what is normal. Get a good book on the subject or read about it online. The main risks from heading to high altitudes are from hypothermia, pulmonary oedema and cerebral oedema, so the more you can read about those the better. Educate yourself about how to spot the symptoms and know how to deal with any situations that might arise.

How to Get to the Rainbow Mountain trek?
All tours to Rainbow Mountain leave from the city of Cusco, the former capital of the Inca Empire and the closest major city to Machu Picchu and many of Peru's most famous attractions. After departing from Cusco your tour will take you on a 3-hour drive south of the city to the town of Pitumarca. Not far from here is where you'll find the Rainbow Mountain trailhead to start your hike.
When is the best Time to Visit Rainbow Mountain?
The Peruvian Andes are subject to two distinct seasons:
The dry season, lasting from roughly April until October.
The rainy season, lasting from November until March (with the months of heaviest precipitation being January and February). April and October are also pleasant since its usually when the seasons are transitioning.
Because of its high altitude and frigid air, the rainy season in the region often turns into snowfall at Rainbow Mountain. Visitors to Rainbow Mountain should come prepared with clothes for all weather, as conditions can also change quickly. For more information about when to visit, make sure to check out our blog on the best time to visit Peru.
HOW HARD IS RAINBOW MOUNTAIN TREK?
Many people don't realize beforehand that Rainbow Mountain is a high altitude hike. The altitude, more so than the incline of the trail, adds to the challenge factor of the hike. The trailhead starts at around 4,300 meters (14,000 feet) and climbs to just over 5,000 meters (16,400 feet). Many people have a hard time and end up paying for a horseback ride offered by one of the locals walking along the trail.
Tips for Visitors
Once you reach the base of Rainbow Mountain where the majority of tourists take photos, try hiking up the hill behind the first vista point for less crowded views.
Be sure to leave early to avoid the larger crowds, the earliest tours leave between 2-3 AM.
Weather can be unpredictable at the summit of Rainbow Mountain, be sure to pack a windbreaker and sunscreen in case conditions change.
Dont hesitate to rest, listen to your body while completing the hike, Rainbow Mountain's height is above Cusco's.
Itinerary for the day hike to Rainbow Mountain
Day 1: Cusco – Cusipata – Llacto – Rainbow Mt – Llacto – Cusco
Your guide will pick you up at the delightful hour of 4am and begin our incredible Rainbow Mountain Trek Adventure! We set out on our 3-hour scenic drive through the South Valley. Along the way there are amazing views of ancient Inca terraces, still used for farming, valleys and rocky mountains.
Once we reach the trailhead, we have a picnic breakfast before beginning our hike along a flowing stream. You will be impressed by the herds of alpacas and llamas all around you. You will have continuous views of the sacred Ausangate Mountain as we hike through different villages and interact with the indigenous people, who are still living in their traditional lifestyles.
We reach our destination – the Rainbow Mountains (5,020m /16,466ft) after a 1.5 hour hike up. After being awed by the beauty, you will have time to explore the area. You can take pictures and savor the moment. We will spend approximately 30 minutes at the top. At this point, we hike for another 1 hour back down the way we came. Our private van will be waiting for us when we return.
After lunch, we will begin our scenic 3-hours drive back to Cusco and drop you off at your Cusco hotel, arriving around 4pm, depending on how fast you hike and how long you wish to stay at the Rainbow Mountain site
Itinerary was provided by Orange Nation Peru!