Highlights
Why choose the one day Inca Trail hike to Machu Picchu?
If you are strapped for time, the one day Inca Trail trek is a must! On this journey you'll be able to hike the last 1/3 of the famous classic Inca Trail that is on bucket lists worldwide. Explore Winay Wayna, an amazing and unique Inca archeological site. Trek the actual trail that the Ancient Incas hiked more than 600 years ago. Experience the spectacular views of Machu Picchu from the Sun Gate and visit Machu Picchu Citadel in the late afternoon when it is less crowded.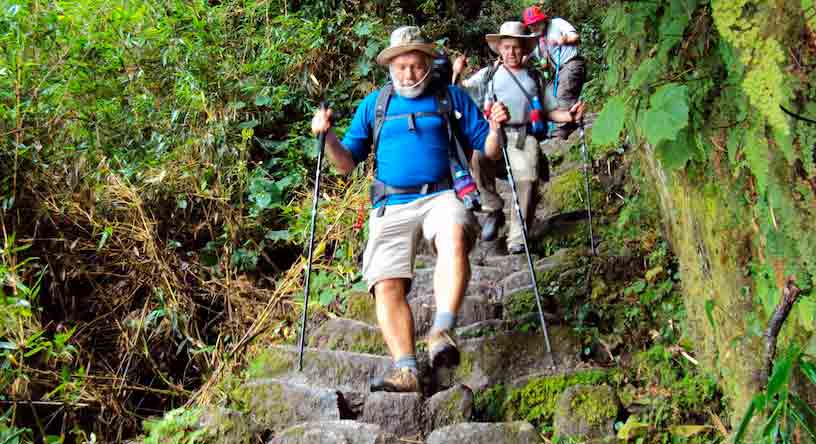 It is very important to note that the route for the 1 Day Inca Trail is the same as the 2 Day Inca Trail, but you are just doing it quicker – less breaks and no overnight stay. You therefore need to be in moderate to excellent physical condition to be able to do this trek and arrive at Machu Picchu Citadel in time. If you think the trek may be too strenuous, consider the 2 day Inca Trail.

Itinerary
THE 1 DAY INCA TRAIL ITINERARY
Times are approximate and depend on your fitness levels.
The adventure of a lifetime begins. Your driver will pick you up at the crack of dawn (at around 4am). You have a short tranquil drive to Ollantaytambo, take this opportunity to catch a short nap. If already in Ollantaytambo, your driver will pick you up at around 5:20am. After that it´s a short drive to the train station.
You arrive at the train station as the sky begins to brighten. The peace of morning soul soothing. The train ride in itself is magical. On your left, the Urubamba River curves gently, acting as a road to the mountains and forest on your right. You are flanked on your right by rugged mountains. You can´t help but gaze up at the rugose and rough-hewn mountains with a sense of awe. Passing snow-hooded mountains, encased in a necklace of white snow. The ruggedness of the mountains transforms to lush trees, with dazzling splashes of color. The aroma of the forest fresh and organic.
The Expedition Train takes you to KM104 (elevation 2,100m/6,927ft), the checkpoint and starting point of your trek. Be ready to meet likeminded people once you cross the bridge over the Urubamba River. Once at the checkpoint take the opportunity to use the restrooms, apply insect repellent and sunscreen, pack your box lunch (no typical box lunch), purchase extra snacks (only if needed) and fill up on water.
The first Archeological site you get to see is just a minute outside the checkpoint. Learn the history and thriving culture of the Incas from a 100% authentic and knowledgeable Peruvian guide. The trek passes by flora and fauna unique to the Inca trail, with its vivid and radiant colors. The Urubamba River guides your path to your left and a brooch of snow draped, heaven-kissing mountains to your right.
Pass a small waterfall with its waters cascading into the rocks. Splash your face with the glistening, clear waters of the small serenity pool below. Take pictures of the vegetation nodding gently.
Now take the moderate climb up to the chiseled remnants and remote archaeological site of Wiñayhuana, (2,650m/8747 ft). The views from this point are absolutely spectacular. You should be thrilled with your achievement so far. Lunch is only a few minutes away.
Once you reach the campsite of Wiñayhuana, stop and take a breather. Enjoy the camaraderie with the other trekkers. Your scrumptious box lunch is a quinoa salad complete with beef, chicken or vegetarian options.
The rest of the trek is pretty gradual. Climb up the monkey steps, like a real monkey. Once you reach the top of Sun Gate Elevation (2,730mts/9,007ft) trust you me, the feeling you get is just indescribable. The size and majesty of Machu Picchu at the bottom will simply take your breath away. Take loads of pictures, there is no better view in the world. As you make your way down to Machu Picchu be sure to ask your guide as many questions as possible.
Your first exploration of Machu Picchu is in the afternoon with minimum tourists around. Very low probability of getting photo bombed . If you arrive timeously, you will get a full 2hour guided tour of circuit #3. You get to explore one of the new 7th wonders of world. Be mesmerized by the sheer brilliance, genius and precision of Incan Engineering, to have constructed a site with such great structural integrity, with very little tools and in such unforgiving terrain. Their mastering of the Ashlar technique is to be marveled. Immerse yourself in its rich historical-cultural legacy and their long and layered history.
At around 4pm, you make your way down the winding roads of Machu Picchu by bus to the quaint town of Agues Caliente. Browse the many local flea markets in town, enjoy the walkability of the coble stone streets and have a delicious dinner at a local restaurant.
At 6:20pm you will then return on the Expedition Train to Ollantaytambo and catch our private transportation back to Cusco. Estimated arrival time in Cusco is 10pm.
Meals: Box Lunch & Dinner (Included)
***Please note: It is not possible to climb Huayna Picchu or Machu Picchu Mountain due to time restraints.
***If you choose, you can stay the night in Aguas Calientes, and we will book your return train for the next day.
*** You can start the trek from Ollantaytambo, if you do we recommend that you stay in our own lodge; Veronica View Hotel.
Map
One day Inca Trail map
Times are approximate and depend on your fitness levels.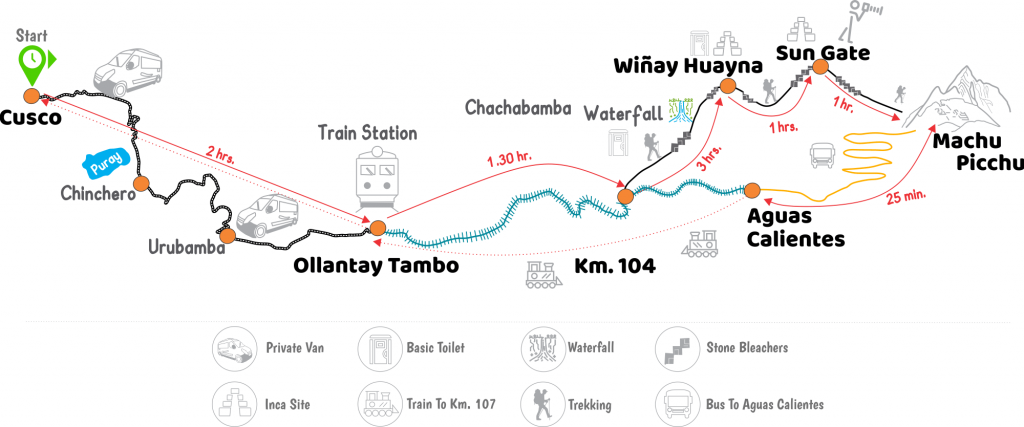 Packing List
Packing Checklist for the 1 day Inca Trail to Machu Picchu
Original passport (this has to match the passport used for the booking)
Good daypack (20-30 liters is recommended). You'll need to make sure you can carry this yourself as no porters are available for the day hike.
Reusable water bottle (in an effort to reduce plastic waste, disposable bottles are not allowed)
Comfortable hiking boots with ankle support
Toilet paper
Windbreaker or warm jacket
Layers – so you are able to remove a layer or two if you become too hot during the hike.
Hand sanitizer
Wet wipes
Personal medication
Sun hat or woolen hat (depending on the season) and sunscreen
Rain gear (if it´s rainy season)
Snacks like chocolate bars, cereal bars or any dry fruits
Insect Repellent
Rain plastic poncho
Camera
Extra money for souvenirs and tips
Preparing for the weather on the Inca Trail to Machu Picchu
Dry Season
May through November is dry season. That does not mean that it never rains in the dry season but it is mostly dry with an occasional light shower.
Rainy Season
The rainy season begins usually in December and last until April. In the rainy season, there can be frequent heavy tropical showers.
In the Cusco region, high altitude means rapidly changing weather – it can go from sunshine to rain showers within minutes. During dry season, if it does rain, the rain rarely lasts long. During the rainy season however it can rain all day. Just because it´s raining in one part of Cusco, doesn't necessarily mean it's raining in other parts of Cusco.
On the Inca Trail, weather conditions vary depending on whether its dry season or wet season . The route for the 1 day Inca Trail, the altitude is 1000 meters or 3000 feet lower than Cusco. Therefore, it tends to be a bit warmer during the day and at night.
It is more tropical and more humid than Cusco. There is always a chance of rain showers, especially in the cloud forest areas. In the rainy season, these showers will last longer and may become intense tropical rain showers. The Inca Trail is made of stones laid on the ground, so it can be more slippery to walk on in the rainy season.
Faqs
Most of the trek is uphill and with a fair number of precipices, steep cliffs and a lot of steps (uphill and downhill)
It can get very humid so its important to stay hydrated and maintain energy
You cannot do the trek by yourself – you must use a licensed tour operator, see above for some suggestions
The 1 Day Inca Trail is the same route as the 2 Day Inca Trail, just in less time. You need to be in moderate to excellent physical condition to be able to do this trek and arrive at Machu Picchu Citadel in time.
The Hike cover 12km/ 8 miles which can be done around 5 hours
HOW DIFFICULT IS THE ONE DAY INCA TRAIL?
It is very important for potential trekkers of the 1 Day Inca Trail to understand that you are doing the same trail as the 2 Day Inca Trail, just quicker. Trekkers need to be in moderate to excellent physical condition to be able to do this trek and arrive at Machu Picchu Citadel on time. If you think the trek may be too strenuous, you may book the 2 day Inca Trail.
WHERE IS THE STARTING POINT OF THIS HIKE?
The actual hike starts at KM 104, from this point to Machu Picchu is 12km.
DO I NEED PERMITS FOR THIS HIKE?
Yes – government issued permits are required and can only be bought by licensed tour operators.
There are only 250 permits per day for the Short Inca Trail. All visitors and professional crew need a permit so we recommend booking as soon as there's availability for your preferred dates.
HOW LONG DOES IT TAKE FROM KM 104 TO MACHU PICCHU CITY?
It takes around 5 to 6 hours, depending on your fitness, it covers 12km in total.
WHAT ABOUT THE ALTITUDE?
Machu Picchu is 2,430 meters (7,972 feet) above sea level, which is much lower than the city of Cusco — 3,400 meters or 11,152 feet — so it's likely you won't suffer from altitude sickness if you've already spent time acclimatizing in Cusco first. If you're concerned about the altitude, take it slow and drink plenty of water. Sipping coca tea, chewing coca leaves or taking a soroche pill are other effective ways to deal with the altitude.
WHAT IS THE BEST TIME TO VISIT MACHU PICCHU?
Consider visiting Machu Picchu from April through May or from September through October. The high-tourist season months are June, July and August when it doesn't tend to rain.