Seventeen Questions to Get Answered before Choosing a Tour Operator for the Short Inca Trail to Machu Picchu in Peru
Is the Trekking Company a fully licensed tour operator for the Inca Trail including their guides?
Does the tour operator actually do the services you are contracting them to provide or do they farm you off to another 3rd party to provide the service for you.
Does the company participate in trip advisor? How are their reviews?
Does the tour operator have a full 100% quality guarantee for all the services they will provide?
What is the minimum number of people required to book? For example: if you are 2 people is it guaranteed that you will trek even if no additional people join the group?
What is the maximum number of people allowed to join the trek or tour? The quality of a trek or tour changes based on group size. If it is a large group of 10 or more people how many guides will they provide?
If you book and pay your deposit, is it guaranteed you will trek or will your booking be cancelled if they do not get a big enough group?
What is included and what is not included for the trek? Are there hidden costs or additional costs that are not mentioned such as entrances, transfers etc.
Are all of their guides University trained with 5 year degrees in tourism and do they speak fluent English? Also, are they trained in all aspects of guiding including "First Aid trained"?
Does the tour operator have satellite phones, and carry first aid supplies and oxygen tanks on all of their treks to protect their trekkers.
What is the quality of food provided, is it freshly cooked food with high quality ingredients or are you getting a dry sandwich and fruit.
What type of accommodation is provided? Is it a hostel or an actual hotel?
What time are the train connections? Will the train times get you back to Cusco at a reasonable hour or did they book the first and last train of the day to save some money for the tour operator.
How are transfers done? Are all transfers included? Are you picked up from your hotel? Are the transfers in a modern tourist van with private chauffeurs from the company or is it mass public transportation, such as a large bus.
Do they pick you up at the airport and transfer you to your hotel for free, at no added cost.
Does the tour operator provide all of their staff a true living wage? Do they provide them with uniforms at no charge and do they care for their needs.
Does the tour operator work hard to protect the environment, do social projects for local people in need and work to make tourism sustainable in their local region?
How to know if a travel company is good?
We recommend seeing their reviews on trip advisor, google and other forums before booking your trip to the Inca Trail. Each company offers a different type of service. Some lead large groups others lead small groups. Their price varies on the size of the group they bring.
HIGHLIGHT OF THE 2 DAYS INCA TRAIL
You visit Wiñaywayna which is an amazing and unique Inca city
You are hiking the last 1/3 of the famous Classic Inca Trail that everyone worldwide desires to hike.
You are hiking the actual trail that the Ancient Incas hiked more than 600 year ago.
You get to hike through the Sun Gate (Inti Punku) all the way to famous Machu Picchu Citadel.
The views from the Sun Gate to Machu Picchu Citadel are spectacular.
You get to visit Machu Picchu Citadel twice, the 1st and 2nd day of the trek.
SHORT INCA TRAIL TO MACHU PICCHU MAP
Times are approximately and depends on your fitness. Permits need to be booked way in advance!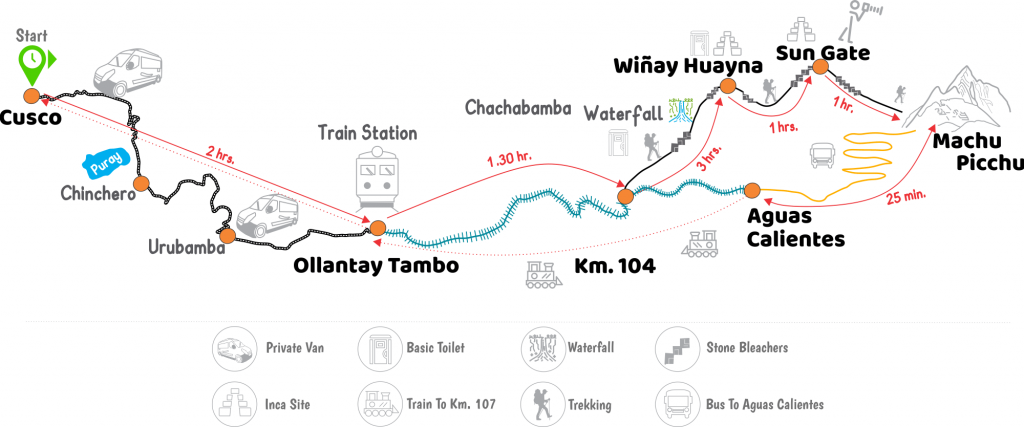 Best Tours Operators
80 trips to Inca Trail | Regional Expert Service level: top
Small intimate groups of 2 to 8 person
Guaranted and Secure Trips
SAM TRAVEL PERÚ is a family-owned Travel Company & Tour Operator located in Cusco, Peru that creates customized uniquely designed adventure treks and tours to untouched wilderness places, OFF THE BEATEN TRACK, in the High Andes Mountains of Peru. Our many years of experience is demonstrated in our excellent reviews!
45 trips to Inca Trail | Regional Expert Service level: Standard
Small intimate groups of 2 to 8 person
Guaranted and Secure Trips
ORANGE NATION is Peruvian owned Travel Company that specializes in tour and trekking in Cusco Peru. They are experienced in offering small group personalized service for tours from the BREATHTAKING ANDES MOUNTAINS TO THE MAJESTIC MACHU PICCHU CITADEL. Making your experience beyond what even you could have dreamed!
45 trips to Inca Trail | Regional Expert Service level: Standard
Small intimate groups of 2 to 8 person
Guaranted and Secure Trips
SPIDER TRAVEL PERU is an innovative adventure travel company in Cusco Peru that offers UNPARALLELED EXPERIENCES TO UNTOUCHED WILDERNESS AREAS. Our adventure treks and tours are specific and carefully designed to cater to budget and personal needs!