Pretty much everybody that goes to Peru will visit Cusco and Machu Picchu. Sandwiched between them is the wonderful fertile Sacred Valley of the Incas, full of unexpected delights. It would be easy to spend a week here, the climate being warmer than Cusco and the accommodation generally more spacious. Most hotels and guest houses have gardens full of flowers and hummingbirds, there are walks on the doorstep, small market towns, Inca ruins aplenty.
When you're not delving into nature, you can learn fascinating Inca facts and dive into the Andean lifestyle. Spend some time learning about what role textiles are believed to have played in Andean culture, partake in a traditional earth oven meal or explore one of the many ruins dotting the Incan land. Through any of these experiences, you'll have a chance to meet the local people (and the local llamas) of the traditional villages and open your eyes to a truly enchanting world.
Climate & Weather for the Sacred Valley
The highland climate of the Sacred Valley has rather consistent temperatures throughout the year. Atop high mountain summits, like Salkantay, temperatures are cold enough to sustain snow year round. The climate is much more temperate far below on the valley floor where towns such as Pisac, Urubamba and Ollantaytambo reside.
Dry Season Vs. Rainy Season
Distinct to Peru's Andean region, the Sacred Valley has a dry and rainy season.
The dry season is from April to October.
During these months, sunshine is regular with a minimal chance of rainfall.
At night, temperatures drop significantly.
Daytime Average: 68-72°F (20-22°C)
Nighttime Average: 35-40°F (1.7-4.4°C)
The rainy season is from November to March.
Cloudy mornings with light showers are typical and afternoons and evenings can bring heavier rains.
January and February usually receive the most rainfall.
On average, nighttime temperatures are warmer in the rainy season, colder in the dry season.
Daytime Average: 68-70°F (20-22°C)
Nighttime Average: About 45°F (7.2°C)
THE BEST TIME TO VISIT THE SACRED VALLEY: The Peak travel season in the Sacred Valley coincides with the dry season: June, July, and August. During this time, the weather is usually sunny and conveniently coincides with the summer months for travelers coming from the northern hemisphere. Given the high demand for services and limited Machu Picchu train and entrance tickets, it's best to plan your trip early to ensure specific date availability.
WHAT PLACES YOU MUST SEE IN THE SACRED VALLEY?
PISAC TOWN, MARKET & RUINS:
Pisac Market
Pisac is less than an hour from Cusco by taxi or local bus. It is a small town famous for its market. You can stay here or go on a day trip, travel independently or take a tour.
Visit any day of the week and wander through the extensive handicraft market in search of fabulous weavings, art work and souvenirs or all imaginable types, shapes and sizes. The local people in the valleys above Pisac make a living from farming and the herding of llamas and alpaca. Their weaving is particularly well known and their clothing elaborate and colorful.
Swimming
A 5 minute walk from the center of Pisac is the 50 m swimming pool and outdoor sports area of the Royal Inca Hotel. This is my top spot for a swim in Peru a fabulous, covered, and usually empty pool plus hot showers.
Pisac Ruins
The Inca site of Pisac, high up above the town is even more extensive than Machu Picchu. I like to take a taxi to the top and spend a few hours wandering down through the ruins, with a picnic. This site is one of the best, with intricate constructions, beautiful curved terraces and stunning views.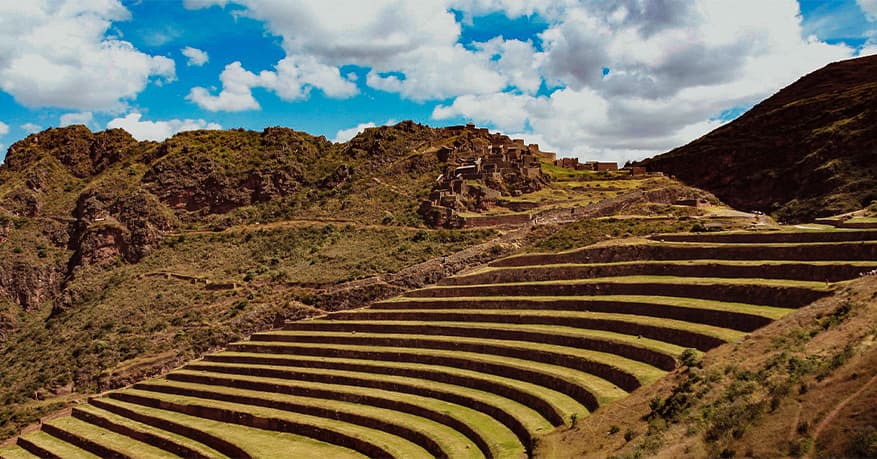 Urubamba
Urubamba just down the valley (an hour or so from Cusco) is less pretty and less touristy than Pisac. Urubamba food market is worth a visit to marvel at the sheer amount and variety of fresh fruit and vegetables. Drink a freshly made fruit juice on the top floor from where you have a superb view over all the comings and goings in the main stall holders area below.

Community Tourism
Another highlight of the Sacred Valley is the opportunity to visit a working farm or smallholding, locally known as a chacra. The Sacred Valley is very fertile and the breadbasket of the Cusco highlands. See how corn is grown and learn about the many varieties of maize and what they are used for, help to make chicha (fermented maize beer) cut alfalfa to feed the rabbits and guinea pigs, and experience life on a chacra.

Day Walks and Treks
The Sacred Valley offers many opportunities for activity days. As well as the multi day treks such as the Lares treks there are numerous beautiful day walks.
The walk to the Huchuy Qosqo Inca ruins is one of my favourite short treks in the region. There are several routes you can take over one or two days to reach Huchuy Qosqo, an Inca archaeological site perched on a cliff over the Sacred Valley.   There is good homestay accommodation at the site. The views on the trek over are spectacular of the Urubamba mountains and the valley far below.

Ollantaytambo Town
The main station now for trains to Machu Picchu Ollantaytambo is one of the oldest towns in Peru. It boasts fabulous Inca ruins that do get busy so go early morning or late afternoon. The town's narrow streets are also worth exploring, plus there are dozens of hotels, cafes and shops for souvenirs. This is a town to hang out in, sit by the Plaza and just watch life go by. Look out for some of the books you can pick up here on Inca astronomy and the Inca sites.

Pumamarca Ruins
Pumamarca Inca site is in the valley above Ollantaytambo. I recommend a taxi up to the site with a picnic and then a gentle amble back down, which takes a couple of hours. Take plenty of water and sun protection plus hat.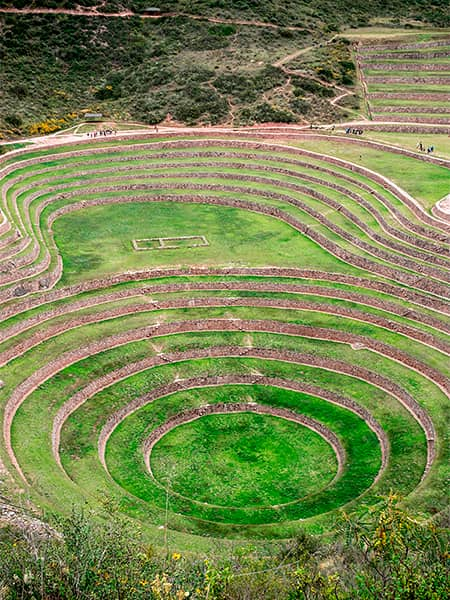 Maras and Moray
Don't miss Maras and Moray. Maras is a collection of individual terraced salt mines that have been used since pre-Inca times to evaporate salt from an underground stream. Moray is a series of concentric circles that make up an Inca agricultural laboratory.
I recommend spending one day visiting the small weaving town of Chinchero then exploring Moray, before walking down through the salt mines to the Sacred Valley below.

Adventure and High Adrenalin
If you are in search of more activity and adventure then there are opportunities for rafting and bike tours, from hard core single track mountain biking to more gentle pedalling along the valley. The Sky Lodge – a pod hung high above the valley is reached by via ferrata, with a zip-line descent.
The Sacred Valley tour can be combined perfectely with the short Inca Trail or any tour to Machu Picchu!