One of Peru's must see travel highlights is the stunningly vibrant multi-coloured Rainbow Mountain trek in Ausangate Mountain near Cusco.
It's easy for visitors to see why at such a stunning site, high in the Peruvian Andes. Plump purple, arctic blues and lemon yellows weave over the shoulders of Vinicunca, its Quechua name, which means coloured mountain. This rich natural tapestry is accessible in just in 1 day from Cusco, enhancing its popularity.
Let's take a closer look at Rainbow Mountain, the montaña de siete colores in Spanish, and uncover some little-known and interesting facts about this beautiful landscape.
Why Is Peru's Rainbow Mountain Coloured Like a Rainbow?
It's easy to imagine ancient spirits deciding to daub the Rainbow Mountain as a tribute to Pachamama or other celestial beings. Maroon, gold, lavender, whites, and pinks compete for the eye's attention, with up to 14 colors detected. The reality of their origin is a little more scientific.
Vinicunca's multiple colors shine thanks to weather and mineralogy. Various reactions caused by weather and minerals produce numerous colors. Each color's stripe formed after different sediments settled throughout the ages, which tilted when the Peruvian Andes came to be after tectonic shifts in the region's Nazca plates. The plate movements also brought many minerals that made the mountain what it is today.
But how did the stripes form? Imagine building a layered cake of jam, cream, sponge, and anything else you wish to put into various sections. Now, turn it on its side; you will see each layer of ingredients from above. The same happened over millions of years at Rainbow Mountain as the Nazca plates moved, the angles creating the spectacular show visitors see now.
What Colors can be seen clearly in the Rainbow Mountain?
Each color relates to a different mineral. For example, red-tinted sectors indicate iron oxide that has rusted, the iron in the rocks rusting after exposure to water in rainfall and snowfall.
Pink: Red clay, mud, and sand mix to produce a beautiful blushing color.
White: This rich, loamy layer is rich in calcium carbonates like quartz and sandstone.
Greens and blues (turquoise): Iron magnesium rocks and phyllites — a fine-grained metamorphic rock — are responsible for some of the most striking colors present.
Earthy browns: Eroded rocks and magnesium add depth to the palette.
Yellows: Sandstone and limestone, enriched with sulphides, create striking golden bands.
When Was Peru's Rainbow Mountain Discovered?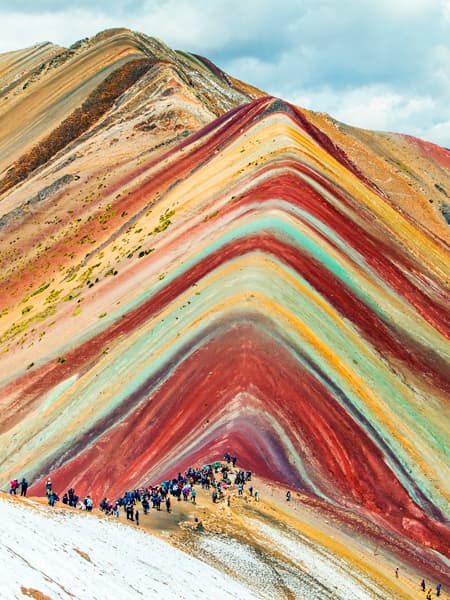 Peru's Rainbow Mountain colors were discovered around ten years ago; the exact date is unknown, but most agree it was between 2012-15 that it caught international attention. Climate change meant more snow melting higher up the Peruvian Andes, revealing Vinicunca's full-color repertoire to the world. Much of the mountain was covered with snow before the snow melted, meaning it was a well-kept local secret.
Rainbow Mountain is at a very high altitude of about 5,200m/17,060ft and a three-hour drive south-east of Cusco. Its lack of vegetation helps display its colors to the world. Llamas and alpacas roam the area, tended by locals of the Ausangate area.
Do People Worship Peru's Mountain of Rainbows?
Vinicunca has a long connection with the people in the surrounding Ausangate and Cusco areas.
Before climate change melted the snow, people would carve ice from the mountain's glaciers and transport it for use in Cusco. Nowadays, inhabitants of the area give offerings to the Apu and other mountains in the area.
Best Time of the Year for the Rainbow Mountain Trek
There are two main seasons in the sub Peruvian Andes:
The dry season runs from late April through to early October.
The wet season starts mid to late October and ends in April.
But, When is the best time of the year to do Rainbow Mountain Trek?
The trek can technically be completed all year round, the peak trekking season to Machu Picchu occurs during the dry season and is busiest between May and September. So, the best time of year to do Rainbow Mountain Trek run from the shoulder of wet months March/April all the way through to the shoulder of dry months October/November.
Overall, the Rainbow Mountain Trek is a memorable, challenging, and jaw-dropping hike that any outdoor or adventure enthusiast would love. If you're looking for an experience you'll never forget, and landscapes like none other, the Rainbow Mountain Trek definitely won't disappoint.
Do I Need to Acclimatize to Visit Peru's Rainbow Mountain?
Yes, you must be well acclimated to high altitude before visiting Peru's Rainbow Mountain. That's because the viewpoint lies at around 4,954m/16,253ft, which is very high.
We recommend at least four nights in Cusco or a similarly-placed location immediately before visiting the mountain, and ideally with day trips to heights above Cusco's. Drink lots of water, eat light meals, avoid caffeine and alcohol, and drink coca tea.
The mountain is very remote, and hospitals are a long way away. Unacclimatised people may suffer from dizziness, headaches, vomiting, and shortness of breath. Severe cases may end with a requirement for oxygen and even hospitalization.
How Can I Visit From Cusco?
There is a myriad of day tours from Cusco to Rainbow Mountain. These make for very long days, with 3-4 am starts and returning to your hotel around 5 to 6pm. Many people take these tours and find themselves among a long line of trekkers, which can reduce the magic of the visit. We don't offer these day tours for the reasons outlined.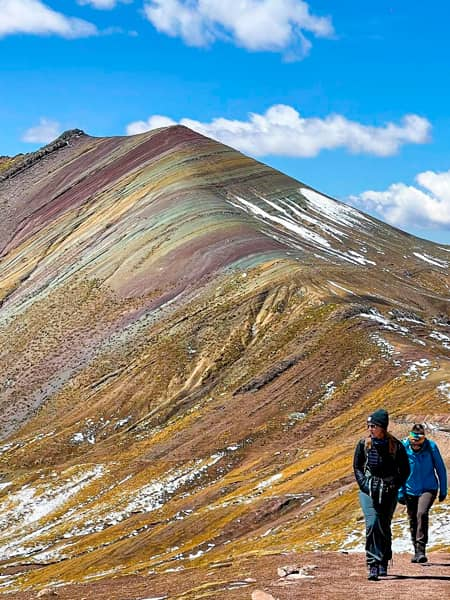 Classic Itinerary for the Rainbow mountain Trek
The Your amazing Rainbow Mountain and Red Valley Trek Adventure begins with pick up from your hotel at 4am! We set out on our drive for 3 hours through the South Valley, on our way to the trailhead at Llacto (4,638m/15,216 ft). Along the way, there are amazing views of farming Inca terraces, traditional villages, valleys and high Andean peaks.
The herds of alpacas and llamas near your breakfast place will entertain you in the early morning. Enjoy a delicious and hearty breakfast, then get back in the van for the last 5 minute drive to the trailhead. We start on our hike following a lovely stream, with views of the Ausangate Mountain and glaciers. This is a great place to interact with the local people, who are still keeping traditional Quechua culture alive. Learn about their traditional clothes and the significance of the different hats worn by the men. Ask your guide to teach you a few words of Quechua!
After hiking up for about 1.5 hours, we finally reach our destination: the Rainbow Mountain! (5,020m /16,466ft). After admiring the unique beauty of this colorful landscape, you will have time to explore the area. You can take pictures or just soak up the view. We will spend approximately 30 minutes at the top. Afterwards, we hike across tothe Red Valley for 45m, enjoy the red colorfull Valley and Mountains and Fanally we walk back to the trail head.
We will embark on the 3-hour drive back to Cusco and drop you off at your Cusco hotel, arriving around 5:00pm.
**** There is an option to rent a horse from local people right at the starting point of the trek!
**** The itineary has been provided by SAM Corp!
Facts About Peru's Rainbow Mountain
Now you know all about Rainbow Mountain, why not contact us and visit this fantastic place yourself. We know the best routes and tips to ensure you have the best time, even this day hike can be combined with any of the Inca Trail tours to Machu Picchu