Our trekking and travel experts share our useful guide to the different Inca Trail tours available from Cusco, so you enjoy the perfect trek and visit to Machu Picchu with the top RATED #1 Tour Operator based in Cusco.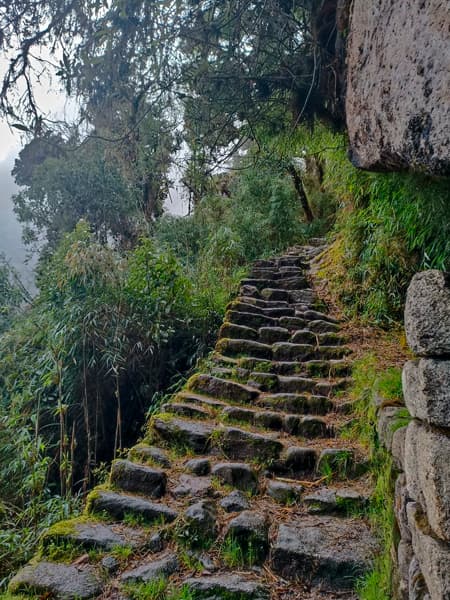 What is the Inca Trail?
The Inca Trail is one of the world's most famous trekking tours, a short but tough hike of 43 km/26.6 miles through the undulating Andes mountains.
It starts in the Sacred Valley, just outside Cusco at KM82, near Ollantaytambo.
Between you and the Machu Picchu ruins, considered one of the Seven Wonders of the Modern World, lies the Dead Woman's Pass, the hike's high point of 4,200m / 13,750ft.
Along the way you enjoy some of the most varied and beautiful terrain of any trek in the world. You will walk from bustling villages to lonely ruins, from windswept mountain passes to lush tropical jungle.
Every trekker needs a permit for the Inca Trail. These are limited to 500 per day and sold on a first come first served basis.
Spaces usually sell out early, so you need to book between 3 and 6 months in advance, especially April to October, when demand for places is high.
The trail closes in February for Maintanace.


Types of Inca Trail tours
There are three different types of Inca Trail tours – they all follow the same A-B route, visiting the same Inca sites along the way, all starting in the Sacred Valley.
The Classic Inca Trail is a 4-day group trek using the most popular campsites with daily departures and a porter to carry some of your personal kit.
The Comfort Inca Trail is the same 4-day trek as the Classic, but runs as a private trek and therefore gives you more personal attention. For more information, see here!
The Luxury Inca Trail takes 5 days along the same route but at a slightly slower pace. We use quieter, more secluded campsites and you may not meet any other trekkers the whole time. There are more porters, so more home comforts can be carried around (toilet tent included), and more time allows us to prepare and provide a more gourmet menu throughout the trek. This is as comfortable as life can get while camping.
****All categories include camping equipment, transfers, trains, Machu Picchu entrance tickets, all meals while trekking, an English-speaking guide and porters.
Alternative treks
If the Inca Trail tours are sold out then there are a variety of alternative treks to Machu Picchu that are as varied as they are excellent.
The Lares trek is a 4-day walk through a traditional weaving and farming area close to the Sacred Valley. You will see people dressed in authentic highland Peruvian clothing, farmers at work, herds of llamas etc. You also have the opportunity to bathe in some hot springs.

The Salkantay option is a bit more rugged and tougher, with higher passes and great views of the big snow-capped peaks in the area. Starting off at 3,600m/11,810ft this trek goes up to 4,600m/15,090 and then drops down into the high jungle before coming in the back door to Machu Picchu.
The Moon Temple is an option unique to Andean Trails, taking in some remote Inca ruins and many stunning mountain views on the way to Machu Picchu. This trek is truly off the beaten track.
Choquequirao is a tough trek of 55km / 34 miles with almost 3,000m/9,800ft of both ascent and descent. Visit two extensive sets of Inca ruins – Choquequirao first and then onto Machu Picchu, with several smaller sites on the way.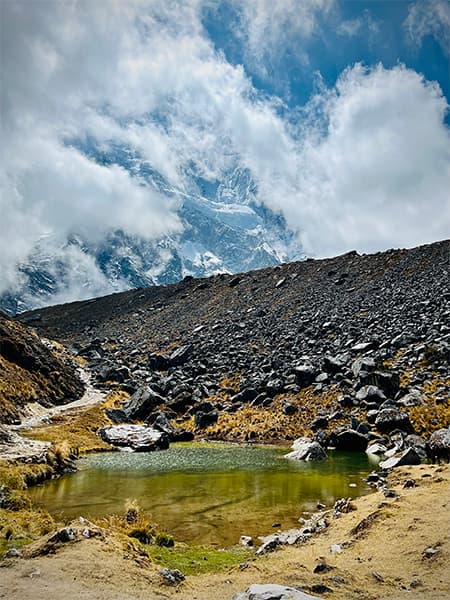 Responsible tourism: sustainability on the Inca Trail
Porter welfare is a big issue in Cusco and at SAM Travel Peru we have always ensured that our porters are paid a fair wage and are well equipped. We operate all our Inca Trail tours and alternatives treks to Machu Picchu and we are 100% Local and direct local tour operator based in Cusco
We ensure that we:
Employ local staff, who are paid fair wages and receive free life insurance
Provide tented accommodation and meals are provided for all trekking staff as well as foam mats, sleeping bags and rain ponchos.
Give all staff trekking shoes.
Ensure our porters carry a maximum of only 20kg.
Offer them backpacks and they generally use back supports.
Environmental concerns
Looking after the environment in which we walk and work is also paramount to us here at SAM Travel Peru.
We:
Use clean burning fuel to cook meals
Ensure porters carry gas stoves and butane bottles.
Use biodegradable detergents when washing the cooking and eating utensils.
Buy Kilometer Zero – buy fresh local produce for all of our treks from markets in each departure town.
Provide treated water to fill up your bottle, reducing plastic use from plastic bottles
Permits and extra walks in Machu Picchu ruins
Huayna Picchu
Machu Picchu mountain
You need to buy a permit in advance to walk up Huayna Picchu, with limited availability and they do sell out.
The walk itself is a steep one-hour climb (200m in height difference), much of which is up Inca stairs.
Just south of the site, and overlooking it, is a 500m climb, up a well-made Inca pathway to some Inca ruins atop. Allow two (sweaty) hours each way through lush forest, keeping a lookout for interesting birds, flowers and snakes sunbathing on the path.
See more detailed information about the extra hikes in Machu Picchu here!
Other useful tips
Get trekking fit before you go!
Learn some local language and interact
Respect local beliefs and customs, even if they differ from yours
Bring a water bottle
Book in advance as permits sell out fast
History of the Inca Trail
The Incas used roads as the spine of their empire, connecting distant towns and sites using llamas to carry goods, ever expanding up to and during the 15th century.
When the Spanish invaded in the 1500s, for reasons unknown they never found the ruins of Machu Picchu, considered the most astronomically significant place in the Inca domain.
It remained hidden until Hiram Bingham famously 'discovered' Machu Picchu in 1911. On a later visit in 1915, he noted a trail leading from Patallacta in the direction of Machu Picchu. It is Patallacta the Inca site that modern day Inca Trail trekkers visit first after disembarking from the train at KM82.
Explorer Paul Fejos arrived in the 1940s to follow that clue from Bingham, clearing the path for what forms the basis of the trek we know today.
In the 1970s backpackers were able to follow a rough map to Machu Picchu – no guides or permits needed – and the increasing popularity of the trek and the ruins has led us to the modern-day permit system.