What is the Inca Trail? Why is so popular?
The Inca Trail to Machu Picchu in Peru is one of the world's most incredible treks, one which 200 keen hikers and 300 hard-working Inca Trail porters embark on daily.
The four or 5-day hike over 28 miles/44 kilometres is a high-altitude walk past Inca ruins, soaring Andean peaks, and breathtaking views while walking on original stone Inca trails.
For many, the Inca Trail is a bucket list dream. For others, like the Inca Trail porters, it is a valuable source of work and income and an integral part of their history and culture.
At SAM Travel Peru, we're proud of how we treat our Inca Trail porters. That means you can enjoy your trek knowing you will leave a positive footprint locally. Let's look at everything to do with our Inca Trail porters, from porter welfare to a bit of their local Quechua language.
What Is the Inca Trail Trek?
The Inca Trail trek to Machu Picchu has been voted one of the new seven wonders of the world, and it's no surprise why. People travel to Cusco, Peru, with high expectations and are seldom disappointed, even the stats will take your breath away.
The high-altitude trek snakes through the Vilcabamba mountain range, reaching a high point of 4,222m/13,852ft at Dead Woman's Pass. Hikers gain 2,452m/8,046ft over the entire trail, passing famous ruins like Llactapata, Sayamarca, and Wiñay Wayna Inca ruins.
The highest campsite is at an oxygen-light 3,603m/11,821ft, and the lowest point is the Machu Picchu ruins at the hike's end, sitting at a relatively balmy 2,452m/8,046ft.
Every hiker needs a permit to walk the Inca Trail. These permits are limited to 500 per day and sold on a first-come, first-served basis; the peak May-September season sells out many months in advance.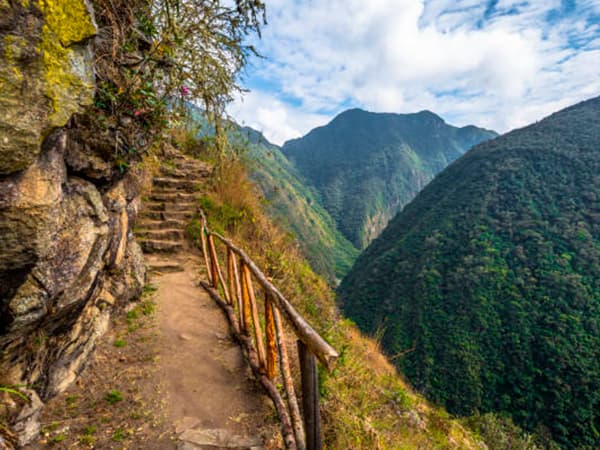 There is a 4-day Inca Trail, and a 5-day Inca Trail that is the same route but hiked more slowly, and a 2-day Inca Trail that is a day walk (4-6 hours) and a tour of Machu Picchu ruins.
Groups are accompanied by official guides and porters that carry the communal weight burden, everything from dining tents to food to chemical toilets. On average, around 20 porters will accompany every 12 strong group. About 300 porters and 200 tourists set off from KM82 daily.
Who Are the Inca Trail Porters?
Inca Trail porters come from the Cusco and Sacred Valley areas surrounding the Inca Trail. For many years, they were poorly paid and often exploited by companies looking to keep wages and trek prices low for visiting trekkers. They carried hefty loads for minimal wages and sometimes terrible working conditions.
By the turn of the millennium, the porters forced the Peru government into offering them working protection after years of poor treatment. Thankfully, times have changed, but there is still work to do.
The porters make everyone's Inca Trail as comfortable as possible. Without them, most people would not be able to attempt the trek. There is no fundamental infrastructure along the trail, and groups need to be self-sufficient and carry everything they need.
Porters carry hikers' personal and communal kit. They are often the first to rise, helping boil water for early morning hot drinks and the last to leave camp after packing away all the gear. Working days can be as long as 16 hours.
The porters will overtake hikers as they head to the next campsite or lunch stop, getting everything ready. Most guests need only change clothes on arrival and enjoy another hot drink with snacks.
Despite the challenging conditions, the Inca Trail is a valued income source for people living off the land, especially during the fallow season. Some companies can use these conditions to drive wages down in a 'take it or leave it' race to the bottom.
Who Looks After the Inca Trail Porters' Welfare?
In 2001, the Peru government issued rules regarding Inca Trail porters. Their rights then included carrying no more than 20kg of communal equipment, a $100 payment for a 4-day trek, the provision of warm clothing and accommodation, sufficient food, and life and accident insurance
There is a 12,000 strong Regional Federation of Porters union called 'Camino Inca Daniel Estrada Perez' (RFP). The RFP occasionally meets the three principal Inca Trail tour operator associations to keep porter welfare under discussion (AATC Cusco, ASSORIC, and Association de Operadores de Turismo Ecologica de Cusco), along with the Ministry of Culture and SERNANP.
In 2017, the 230 soles wage for a 4-day trek was re-emphasised raised to $100.
In 2023, Inca Trail porters' working rights were updated to include the above and the following:
Minimum payment of $50 per day, or $200 per 4-day trek
Male porters carry 20kg and female porters 15kg maximum
Working days limited to eight hours, with overtime paid for any extra hours worked
Working weeks restricted to 48 hours per week
Porters must have five days rest before starting a new 4-day Inca Trail trek
How Does SAM Travel Peru Look After Its Inca Trail Porters?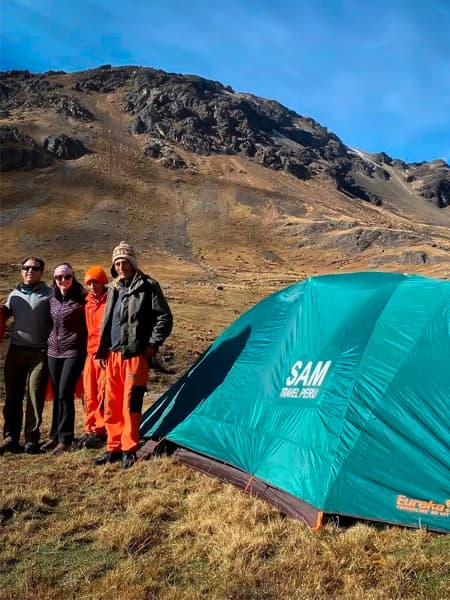 SAM Travel Peru's porters come from the villages of Yanahuara, Willoq, Ccorao, and the upper reaches of Ollantaytambo. Almost all porters are males, and many have smallholdings or farms that they tend when not working the Inca Trail.
Our porters are 18-45-years-old, and many have worked with us for years. They speak Quechua, with some younger porters also speaking Spanish, and a few have some English.
The Owner of SAM Travel, Saul Alvarez has started his career as a porter and moved up to being an assistent cook, and then worked as guide over many years and now organises Inca Trail treks for over 10 years. Saul's experience as a porter and guide has helped him gain an appreciation of what works and does not work well on Tours & treks and within tourism. Now as the owner of SAM Travel Peru, he is involved in every aspect of making sure his business runs smoothly, which keeps him on his toes. Despite his impressive workload, he keeps everything in tip top shape and all with a smile on his face.
All our porters get advanced warning of the required numbers so that the villages can decide who to send. We provide transport to and from the trek and pay them the official rate.
We provide tents and mattresses for the porters. Some companies let porters sleep in the dining tents, which have no floor, are draughty, and can let rainwater run across the floor.
Meals include meat, quinoa, lentils, and beans, rather than the more international food served to hikers.
Porters are given presents on special celebratory days like Christmas, Pachamama, and Worker's Day to recognise and appreciate their efforts.
What Do the Inca Trail Porters Carry?
Inca Trail porters carry everything from tents to food and medical supplies. They also heft people's belongings, usually sleeping bags, a Thermarest, clothes, and personal items and help set up and break camp daily.
All rubbish is packed up and brought out on porter's backs. The porter carrying the toilet tent deserves a special tip. Theirs is the only burden that gets heavier as the trek progresses!
How Much Weight Do Inca Trail Porters Carry?
Inca Trail porters carry a maximum of 20kg weight with 5kg for their personal belongings (males), and a maximum of 15kg for female porters.
There are various checkpoints along the Inca Trail, including at the start, to ensure limits are obeyed. Some companies try to get porters to use the 5kg personal allowance for the group's kit, we would never implement this at all.
How Much Should I Tip My Inca Trail Porter?
Tipping your Inca Trail porter is a way to show appreciation for their work. Your porter has an arduous trek no matter what happens, the weight remains the same.
We understand tipping is not part of every culture, so we pay our Inca Trail porters well.
However, tipping is part of Peruvian culture to reward a job well done. There are two ways to tip. Firstly, the group can pool all tips and give them to the head guide, who then distributes the pot among all workers. There is a hierarchy that the guy follows when handing out the kitty.
Secondly, you can tip your personal porter individually and directly.
Tipping Recommendations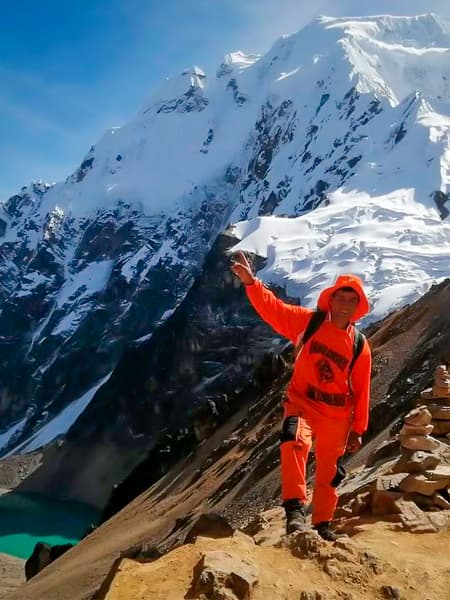 Communal tipping: Allow USD 10-20 per person, per day, so USD 40-80 in total, to cover the guide, cook, and porters on a 4-day trek.
Direct tip to Inca Trail porter: Allow USD 5-7 per person per day, making USD 20-28 per person directly to the porter.
You can tip both directly and communally if you wish. We recommend against giving large individual tips because this can distort the wage structure within the team.
How Else Can I Reward My Inca Trail Porter?
Tipping is just one way to show your appreciation for your porter.
Learning a few words in Quechua will earn you immediate respect and warmth from your porters, who are immensely proud of their language and culture. After all, you are on the Inca Trail to learn about Inca culture, which includes the Quechua language.
Sutinmi (soot-in-me): My name is…
Inca ñan (In-ka-nee-an): Inca Trail
Somaq mihuna (so-mak-mee-hoo-na): Amazing food!
Allianchu (eye-eee-an-choo): Hi, how are you?
Allianmi (eye-eee-on-mee): I'm fine, thanks.
Sulpayki (sool-pay-key): Thanks.
Tupananchikama (two-pan-an-cheese-kama): Goodbye
Ask them about the songs they may be singing, and don't be afraid to join in. Share coca leaves if you have some to bring.
How Does SAM Travel Ensure Responsible Trekking on its Inca Trails?
SAM Travel is in constant contact with our Inca Trail team, checking standards and looking for ways to improve. We always include a personal porter to promote local employment and show tourism in a positive light.
We want our porters to be well fed, dry, warm, and happy in their work so that they want to work with us again. The Inca Trail is a celebration of their culture, and their efforts, alongside your own efforts.
Inca Trail Porters and Responsible Trekking
The Inca Trail is a bucket list hike and one of Peru's travel highlights. With its orchids, condors, cloud forest, and snow-capped peaks, this beautiful trail is open to all with training and determination.
SAM Travel Peru wants people to enjoy the Inca Trail, safe in the knowledge that the porters are respected and rewarded for their hard work and efforts. We hope that by understanding their role, language, and tipping, you can thoroughly enjoy your experience and leave nothing but a positive and responsible footprint.
We're happy to help fulfil your Inca Trail dream. Contact us for more.